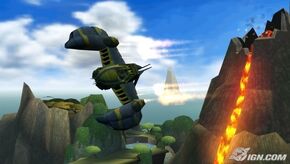 &nbsp
The Hellcat is an airship in the lost frontier. It is controlled by Jak and used HCGE fuel as power.
Hellcat

Type

Airship

Location

Everywhere

First Scene

Beginning

Faction

Transportation

Weapon Slots

Everywhere

Mod. Slots

Everywhere

Power 1-10

7

Armor 1-10

7

Speed 1-10

8

Function

Combat
The Hellcat is a light craft and employs good maneuverability. Just like any other aircraft, the Hellcat requires two pilots. Once in flight the user can use turbo to get an extra boost. It will occasionally run out of fuel. During flight the wings can support enough weight to hold three grown men during flight.
The Hellcat is powered by Green Eco fuel. If shot at during flight, the Eco like substance will release, indicating damage.
During flight there will be a few enemies that will be targeting you. In order to defend yourself is to steal armor from other airships. In Jak and Daxter the Lost Frontier, Daxter can jump onto enemy airships and steal parts and use them to make repairs for the Hellcat.
The Hellcat can only carry a few weapons and few additional mods making it less desirable for combat. The weapons are customizable. In the intro it is shown to have a machine gun turret, it is unusable in game play.
The Hellcat comes with a few navigational tools such as a Navigator, Radar, and an Altitude Monitor. The Navigator provides reliable positioning, navigation, and timing services. It also includes a radar that can detect enemy airships. Their is also an Altitude Monitor that lets you know how high or low you are during flight. In Jak and Daxter the Lost Frontier, you can also customize the Hellcat to your satisfaction by using Scrap.
References
Edit
External Links
Edit