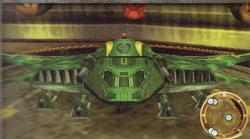 &nbsp

The Gunship is a heavily armored combat plane with a unique loadout. Rather than distributing the gun mounts across the design, all five mounts are located under one wing. This ship is best utilized with 5x weapons. The heavy armament of the aircraft reduces damage sustained from enemy strafing at the cost of air speed. Though still capable of evasive maneuvers, the Gunship is slower than any other aircraft.
"For the low price of 15000 [scrap] you can own yourself a new Gunship. It's such a good deal one might say it's a steal."
This is a slow, big, vehicle, and does not turn easily.
HCGE.
It has big, heavy military armor.
References
Edit
External Links
Edit