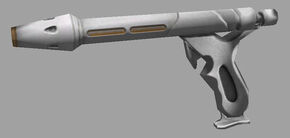 The eco pistol is the main weapon for supporting characters, or atagonists. These are the people seen using them
Eco Pistol

Type

Pistol

Fuel

LCE

Faction

Antagonists

Function

Weak

Ammo

LCE fuel

Power 1-10

0

Range

Far

Rate of Fire

Low

User

Antagonists

Usabe to Jak

No
Klout
Captain Phoenix
Saucy Pirate
Eco Pirate
It is a far weaker weapon than Jak's gunstaff mods. They are neither speedy or powerful, and use up alot of LCE (low concentrated eco, which is the opposite of HCE [high concentrated eco]). The eco pistol is very loud, thus, making it a horrible weapon. Cocks in the eco-pistol:
Loud so easy evasion
Slow
Not very Powerful
Burns up alot of LCE fuel.
The eco pistol has evolved since the last time they were seen in Jak 3. In Jak II and Jak 3, it shot LC Red Eco. Now they use simply Yellow Eco. And, it used to be a blob of red eco, but now it is a pointy sphere of shining yellow eco.