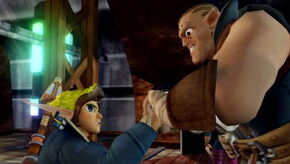 Eco Pirates are Characters and Enemies in the lost frontier. Their leader is Captain Phoenix and their goal is to destroy Chancellor Ruskin and Duke Skyheed along with the rest of Aeropa. They drive Sky Raiders and Racing Raiders (Sky Raiders but with racing stripes on them). Their leaders 1st mate is Klout until he betrayed him for money, then it was Jon
Eco Pirates or Sky Pirates

Hometown

Far Drop

Hair

Various (mostly dark)

Eyes

Various

Species

Elf-human

Weight

Various

Height

Various

Age

Various

Gender

Male

Saucy pirate

Female

Weapon

Eco Pistol, Swords
Pre-the lost frontier
Edit
The Eco Pirates factions' existence before The Lost Frontier is practically unknown. The earliest mention was when Captain Phoenix joined (which was around Daxter, it can be assumed that they were a minor annoyance in the eye of Aeropa during that time but when the shortage of Eco began they actually started mass attacking anyone. And considering Phoenix' determination to defeat Aeropa the two probably helped greatly expand the faction.
The Lost Frontier
Edit
The Pirates, under command of Phoenix were attacking anyone. Eventually Jak, Keira and Daxter joined resulting in a series of quests for the Eco Core. Eventually they did find it but also engaged in a massive war against Aeropa, eventually they sieged it and destroyed most of the city (and lost many men in return). In a final battle against the ACS Behemoth, Phoenix sacrificed himself and the Phantom Blade to stop Duke Skyheed from taking over the world.
The Lost Frontier After-math
Edit
It's unknown what happens to the pirates after The Lost Frontier, but they most likely rebuild their home and just lived life over Brink Island and Far Drop
Characteristics
Edit
Physiology
Edit
The Pirates have a variety of looks and builds.
Abilities
Edit
None of the Pirates got any extraordinary abilities, most use simple weapons.
None of the pirates had any kind of society, the leader was usually the best or he who paid the most.
All of the Pirates live at Far Drop, where they have a small village.
Equipment
Edit
They use a big airship, the Phantom Blade as a base of operations and for travel. Normally they fly around in Sky Raiders, which is the standard Airship.
A device called the Aeropult is a common way for quick travel around Far Drop.
They use simply eco-pistols, swords and are great at boxing.