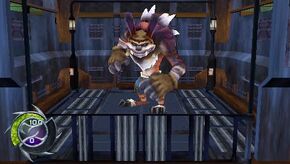 DAXX

Hometown

[Daxter]: Sandover Village

Hair

Orange/Purple

Eyes

Black

Species

Dark-ottsel

Weight

1,002lbs.

Height

7-8 1/2 in.'s

Age

25

Gender

Male

Weapon

Powers

Vehicle

None
Dark Daxx is Daxter's alter-ego. It is a dark-ottsel, about 7-8 1/2 in.'s tall, dark-orange and purple fur, some sort of teeth crawling out of his back like a dinosaur, his yellow bands become pale white, with big teeth. After completing the danger course, Jak and Dexter were walking around down-town aeropa city, then Daxter fell in an open sewer gate, he was looking around half-hoping his buddy would here him as he said "Jak, hehe, buddy, were ar..." and then a pool of dark eco fell on him, in a blast, he turned into Dark Daxx (or Daxx). He then had a variety of super-powers and strengths, like dark jak, back when Jak could transform. Daxter is very fond of his Daxx abilities, as he says when you finish the sewer's Daxx mission, "Not fair, I aint done playin' yet :(" &nbsp
Daxx has 4 eco powers when he turns into Daxx:
Dark Eco Bolts - Daxter can produce dark eco bolts from his hand to make a sort of weapon.
Frenzy - Daxter spins him self in a tornado to make a Dark Frenzy (this mode is simaller to "Taz Tornado," from Looney Toons)
Ground 'n' Pound - Daxx can pound on the ground; smashing the ground.
Pick up and Throw - Daxx can pick up his enemies and throw them (this becomes useful when you throw a spider over a broken part in the ground, as this acts like a patch because the spider makes a web and patches the ground)
Appearance
Edit
When Daxter transforms,his orange fur becomes a dark red mixed with dark purple,mostly on his arms and ears.The yellow bands on his arms become a pale white and the claws on his feet become longer.He grows two long fangs from his bottom row of teeth and growing from his back are several long, thick purple and white quills.
External Links
Edit