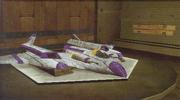 &nbsp
Phoenix steals this little present from the Aeropans in gratitude to Jak for saving the pirates of Far Drop. Equipped with three Ground Attack Rockets, the Bomber is an excellent choice for heavy assault on Aeropan transports and missions involving the Behemoth. Heavily armored, it can sustain greater damage before repairs are required. However, the Bomber suffers in maneuverability and flight speed, making it a bad choice for timed events.
Aeropan Bomber

Type

Airship

Location

Everywhere

First Scene

Phantom Blade Hangars

Faction

Transportation

Weapon Slots

Tri-front

Mod. Slots

Everywhere

Power 1-10

5

Armor 1-10

6

Speed 1-10

6

Function

Combat
This isn't a very easily controled vehicle, although later in the game, you get used to it.
As all airships - it uses high concentrated green eco fuel.
It has the same patching and coloring as the ACS Behemoth (as it came from the Aeropans).
It's main weapons are misills and bombs.
References
Edit
External Links
Edit